Book details
Little Thieves (Little Thieves #1) by Margaret Owen
Published October 19th 2021 by Hodder & Stoughton
RRP AUD $22.99
★★★★☆
---
A scrappy maid must outsmart both palace nobles and Low Gods in a new YA fantasy by Margaret Owen, author of the Merciful Crow series.

Once upon a time, there was a horrible girl…

Vanja Schmidt knows that no gift is freely given, not even a mother's love?and she's on the hook for one hell of a debt. Vanja, the adopted goddaughter of Death and Fortune, was Princess Gisele's dutiful servant up until a year ago. That was when Vanja's otherworldly mothers demanded a terrible price for their care, and Vanja decided to steal her future back… by stealing Gisele's life for herself.

The real Gisele is left a penniless nobody while Vanja uses an enchanted string of pearls to take her place. Now, Vanja leads a lonely but lucrative double life as princess and jewel thief, charming nobility while emptying their coffers to fund her great escape. Then, one heist away from freedom, Vanja crosses the wrong god and is cursed to an untimely end: turning into jewels, stone by stone, for her greed.

Vanja has just two weeks to figure out how to break her curse and make her getaway. And with a feral guardian half-god, Gisele's sinister fiancé, and an overeager junior detective on Vanja's tail, she'll have to pull the biggest grift yet to save her own life.
Review
At the time of writing this review, I'd read this maybe 2-3 night ago (?) and I literally haven't been able to stop thinking about this since then omg. Little Thieves is a retelling of the Goose Girl fairytale, and tbh I wasn't familiar with the fairytale when reading through (oops). BUT, after finishing the story, I went and looked it up! I love the twists Margaret has put on the tale, it seems quite true to the original tale, but still has that uniqueness to it! It also gave me Barbie Princess & the Pauper vibes, in the best way possible.
The start was a teensy bit slow for my liking, but it was necessary in showing backstories and building up to the INCREDIBLE story that it was!! I LOVED IT. After the initial show-ish start, I literally could not put it down. I read the last ¾ of the book in one sitting and finished at 3am, it was THAT good!! There's a few different relationships building throughout the book, romantic and non-romantic, and the primary romantic relationship literally made my heart ACHE SO MUCH. Like I haven't had heartaches like that in a very, very, very looooong time.
The main few characters were SO incredibly well built!? Vanja was the ultimate unlikeable protagonist that I ended up loving, her story absolutely broke my little heart and I really enjoyed watching her throughout the book. She's been through a lot, her godmothers are Death and Fortune, and she's been forced to pick between them since she was 13, as they asked her to choose who she wants to serve. It was honestly quite heartbreaking reading through her experiences so far, and they really work well to explain why she's the way she is.
Emeric is the Junior Prefect who is taking care of investigating the string of robberies that have been hitting those in high places, and I love him????? I won't go into his character too much, as I think it's far better learning about him through the book, but he's such a well-written character. Ragne has been tasked to watch over Vanja, and she's honestly the best character in this whole book – she's SO funny HAHA, think Drax in Guardians of the Galaxy type humour, I am a BIG fan. You'll have to read the book to get to know her, but she's the most innocent character and I love her, she deserves the WORLD.
Something I really enjoyed about this was also the ending! There were quite a few mysteries throughout the book, and everything wrapped up SO nicely, we weren't left on any horrible cliffhangers, but the ending still left everything open for a second book. I would definitely recommend this, and I am SO excited to keep reading more of Vanja's story!
I received a review copy from the publisher, this does not change nor affect my opinion in anyway.
About the Author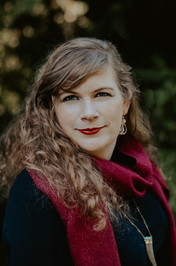 Born and raised at the end of the Oregon Trail, Margaret Owen spent her childhood haunting the halls of Powell's Books. After earning her degree in Japanese, her love of espresso called her north to Seattle, where she worked in everything from thrift stores to presidential campaigns. The common thread between every job can be summed up as: lessons were learned.
She now spends her days wrestling disgruntled characters onto the page, and negotiating a long-term hostage situation with her two monstrous cats. (There is surprisingly little difference between the two.)