Goodbye, Perfect by Sara Barnard
Published February 8th 2018 by Macmillan Children's Books
RRP AUD $16.99
★★★
When I was wild, you were steady . . .
Now you are wild – what am I? 

Eden McKinley knows she can't count on much in this world, but she can depend on Bonnie, her solid, steady, straight-A best friend. So it's a bit of a surprise when Bonnie runs away with the boyfriend Eden knows nothing about five days before the start of their GCSEs. Especially when the police arrive on her doorstep and Eden finds out that the boyfriend is actually their music teacher, Mr Cohn.

Sworn to secrecy and bound by loyalty, only Eden knows Bonnie's location, and that's the way it has to stay. There's no way she's betraying her best friend. Not even when she's faced with police questioning, suspicious parents and her own growing doubts.

As the days pass and things begin to unravel, Eden is forced to question everything she thought she knew about the world, her best friend and herself.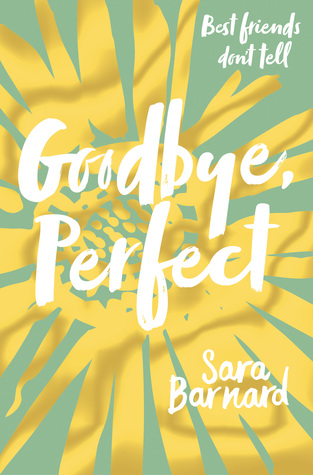 I've read both of Sara Barnard's past books, Beautiful Broken Things and A Quiet Kind of Thunder, so I had quite high expectations for Goodbye, Perfect. I really wanted to love this book, since I loved her other ones, but unfortunately it fell a bit short, which was pretty disappointing. Sara tends to write about topics that are generally considered controversial or taboo and aren't usually covered in YA in a realistic manner, buuut, I'm not going to lie, when I first read the synopsis I did a double take. I wasn't too sure how I felt about a teacher-student relationship?? It's a bit strange to say the least, but I did like how it wasn't romanticised.
Sara's writing is very readable and tends to pull the reader in, but the plot itself was quite slow and repetitive, with most of the book being the main character, Eden, deciding whether to tell or not. Most of the action happened in the first and last 50 pages of the book. However, there were some little newspaper article clippings and text messages, which I felt made the book slightly more interesting. Oh, and!! There's nothing wrong with being a good student, there's no such thing as a "teenage experience". If you care about your studies, good on you!
Eden's character was honestly so selfish and bratty, and I hated her. Like, yeah I understand it's hard to choose between your best friend's trust and telling the truth, but there were so many times I rolled my eyes because she made a stupid decision. I don't know if she was supposed to be portrayed as a "troubled teen" or something like that, but I hated it. She kept lying to everyone, even when they knew she was blatantly lying to their faces.
Eden's an adopted child, so I can understand if she's facing identity issues, but it bothered me so much whenever she would be pushing away her adoptive sibling, Valerie, constantly ignoring whatever she says and refusing to believe that Valerie actually cares about her. But, regardless, I'm glad about what happened between them towards the end of the book.
Bonnie's character was very selfish, deluded and groomed. She refused to believe her relationship was illegal and kept insisting that they were in love. Like?? Ok, but it's still very illegal. Bonnie was probably one of the worst 'best friends' I've ever read about. Not only did she ask (and expect) Eden to keep her illegal relationship a secret, and lie to the police, but she ditched everyone – her best friend, her family, her entire life – just so she could be with an adult. She was so deluded and groomed, and I hated it. By the end of the book, I honestly hated her, especially when reading the last 50 odd pages.
Don't get me wrong, Sara Barnard can write very well and keeps you drawn in as a reader, but I didn't like the main characters and there were a lot of things that didn't sit well with me. I'll definitely pick up her next book, but I just wasn't a huge fan of this one.
I received a review copy from the publisher
---
ABOUT THE AUTHOR
Sara Barnard lives in Brighton and does all her best writing on trains. She loves books, book people and book things. She has been writing ever since she was too small to reach the 'on' switch on the family Amstrad computer. She gets her love of words from her dad, who made sure she always had books to read and introduced her to the wonders of second-hand book shops at a young age.