The Bone Witch (The Bone Witch, #1) by Rin Chupeco
Published March 7th 2017 by Sourcebooks Fire
RRP AUD $16.99
★★★★
The beast raged; it punctured the air with its spite. But the girl was fiercer.

Tea is different from the other witches in her family. Her gift for necromancy makes her a bone witch, who are feared and ostracized in the kingdom. For theirs is a powerful, elemental magic that can reach beyond the boundaries of the living—and of the human.

Great power comes at a price, forcing Tea to leave her homeland to train under the guidance of an older, wiser bone witch. There, Tea puts all of her energy into becoming an asha, learning to control her elemental magic and those beasts who will submit by no other force. And Tea must be strong—stronger than she even believes possible. Because war is brewing in the eight kingdoms, war that will threaten the sovereignty of her homeland…and threaten the very survival of those she loves.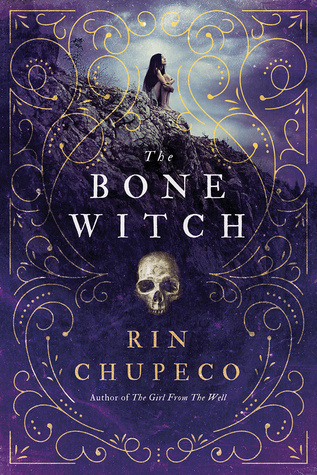 I'd actually had this on my TBR since it featured in my Anticipated Reads March 2017 post, hehe. I'd tried to start this a few times before this one, but the previous times it didn't hold my attention and I moved onto other books. BUUUUT this time I stuck it out and I'm actually really glad that I did, because when things picked up, I couldn't put the book down. Rin Chupeco's writing reminds me of Leigh Bardugo's (which I love), and honestly for the first quarter of the book I genuinely thought that The Bone Witch was set in the Grishaverse, before I was like, hold up. This is not Leigh Bardugo.
So the story is told as a backstory, I suppose, but in between each chapter, there's an excerpt from the present time, but it was quite odd because the little excerpts kind of spoiled the backstory????? If you get what I mean?? I wasn't too sure how to think of things, but I ended up reading the backstory as the present time (which will be referred to as the main story from now on), and the excerpts as the future. Anyway, the world the story was set in was so rich in culture and described beautifully, but also quite complex. I loved the little details and the hierarchies that were placed in, but this story is definitely not a big adventure story, it seemed more like a little adventure story with there being a couple of bumps in the training, and then a bigger adventure thing.
I kept forgetting how young the protagonist, Tea, was throughout the main story. She's such a wonderful character, so passionate about everything she does, but also intelligent and mature for her young age. I loved her relationship with her brother, Fox, and I thought it turned out really well. All of the characters had depth and complexity to them, and they felt very real, and that really surprised me for some of them. Lady Mykaela was a highlight, and she was a wonderful mentor for Tea.
I took off a star because of the slow introduction, and the "big reveal" or like main plot thingy didn't hit me as much as I wanted to, probably because I'm forgetful and was just confused. I had to go back and search up some info real quick and then I was like ohhh I get it now. But besides that, I enjoyed the book and I thought it was a good start to the series, and I'm excited to see what Tea does next.
Bonus: Rin has a Pinterest board for The Bone Witch Series!! Click here to visit.
---
ABOUT THE AUTHOR
Despite an unsettling resemblance to Japanese revenants, Rin always maintains her sense of hummus. Born and raised in Manila, Philippines, she keeps four pets: a dog, two birds, and a husband. Dances like the neighbors are watching.
She is represented by Rebecca Podos of the Helen Rees Agency. She is also fond of speaking in the third person, and may as well finish this short bio in this manner.