Aristotle and Dante Discover the Secrets of the Universe (Aristotle and Dante Discover the Secrets of the Universe #1) by Benjamin Alire Sáenz
Published February 21st 2012 by Simon & Schuster Books for Young Readers
RRP AUD $17.99
★★★★★
Aristotle is an angry teen with a brother in prison. Dante is a know-it-all who has an unusual way of looking at the world. When the two meet at the swimming pool, they seem to have nothing in common. But as the loners start spending time together, they discover that they share a special friendship—the kind that changes lives and lasts a lifetime. And it is through this friendship that Ari and Dante will learn the most important truths about themselves and the kind of people they want to be.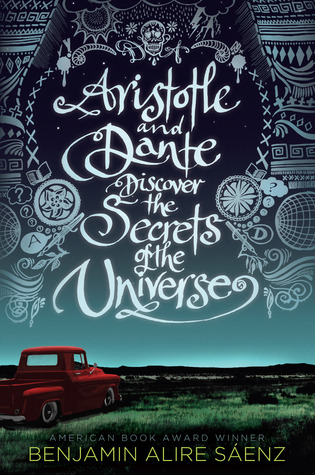 So, before starting this book I'd heard so much hype!! I actually was given this book last year, but only just got around to reading it and it's so beautiful. I started off the book by listening to the audiobook while painting and I just loved how it felt listening to Lin-Manuel Miranda reading to me ❤
I felt everything, and it was absolutely beautiful. Benjamin is such a skilled writer, everything was so poetic and everything felt so graceful. I loved how both boys were portrayed – as outsiders, but still just teenage boys. The friendship and adventures they share were built so perfectly, everything flowed so well and captured my attention. The story itself was beautiful, heart-warming and deeply philosophical. This book made me think!! So much!! But I loved it!?
This book deals with a lot of sensitive topics, such as PTSD and bullying, and is very diverse, including LGBTQ+ characters, and majority of characters are Mexican. The families of both boys were so wonderful, I loved the dynamics between each boy and their parents, as well as each boy and the other's parents, if that makes sense?? Like Ari and Dante's parents, or Dante and Ari's parents – but more on the Ari and Dante's parents dynamic.
The characters were so well-developed, and I loved both boys. Dante was the outgoing, open one and I loved how fearless and vibrant he was. He was clever, artistic and just so beautiful. I love how open and just how out-there he was, he embraced himself and I loved the message that presented. Aristotle was quieter, and more subdued, but still beautiful. I loved his character in the beginning, but after the first major event, he slightly got on my nerves because I didn't like how he changed, but in the end it all made sense, and I loved him again.
I honestly don't know what else to say, except that it was a stunning tale and I wouldn't change a single thing. But, as odd as it sounds, although I didn't want this book to end, I don't really think I want a sequel (even though I'm going to read it, because I'm unreasonable like that). I think I'm just scared that something would happen and just ruin how well the ending was built?
I really recommend this book to anyone who's looking for a lovely book to read, 5 stars ❤
---
ABOUT THE AUTHOR
Benjamin Alire Sáenz is an author of poetry and prose for adults and teens. He is the winner of the PEN/Faulkner Award and the American Book Award for his books for adults. Aristotle and Dante Discover the Secrets of the Universe was a Printz Honor Book, the Stonewall Award winner, the Pura Belpre Award winner, the Lambda Literary Award winner, and a finalist for the Amelia Elizabeth Walden Award. His first novel for teens, Sammy and Juliana in Hollywood, was an ALA Top Ten Book for Young Adults and a finalist for the Los Angeles Times Book Prize. His second book for teens, He Forgot to Say Goodbye, won the Tomás Rivera Mexican American Children's Book Award, the Southwest Book Award, and was named a New York Public Library Book for the Teen Age. He teaches creative writing at the University of Texas, El Paso.