A Court of Wings and Ruin (A Court of Thorns and Roses #3) by Sarah J. Maas
Published May 2nd 2017 by Bloomsbury
RRP AUD $17.99
★★★★★
A nightmare, I'd told Tamlin. I was the nightmare.

Feyre has returned to the Spring Court, determined to gather information on Tamlin's maneuverings and the invading king threatening to bring Prythian to its knees. But to do so she must play a deadly game of deceit—and one slip may spell doom not only for Feyre, but for her world as well. As war bears down upon them all, Feyre must decide who to trust amongst the dazzling and lethal High Lords—and hunt for allies in unexpected places.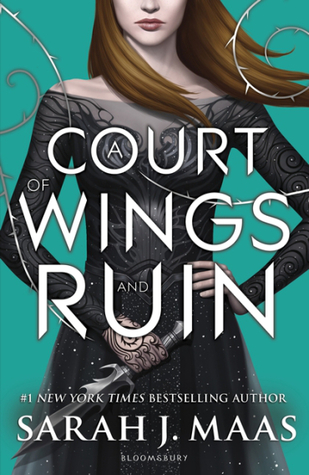 DEPRESSION KICKS IN. As I write this, it's 4am and I've just finished ACOWAR and I. Am. RUINED. My heart was twisting and turning and SO MANY FEELINGS. For some reason, everytime I read a book in this series I end up reading it all in one go, and usually finish it around 4am???? Must be magic infused in the pages. I adored the first two books in the series, but this blew them out of the water omg. There's so much I want to talk about omg, but I'll do my absolute best to avoid spoilers!! But be warned that I'm writing this with the assumption that talking about the past 2 books isn't a spoiler, so careful if you haven't read ACOTAR or ACOMAF!! P.S. I'm sorry for the mass amounts of capitals, but I'm honestly just so excited and screamy and in love with this book and I feel like only capitals can show my true feelings hehe. P.P.S. I'm probably going to focus on characters in this review, just because I think it's better to be able to find out those parts of the book for yourself 😉
Ok so the characters, where to begin??? First up I just want to say that one thing I really loved, was the LGBTQ+ representation in the book! I loved how they were subtly woven in, and it all felt very natural, and not like Sarah just threw them in for diversity's sake.
OK SO HIGH LADY OF THE NIGHT COURT WOW Feyre has grown so much as a character and how she lived at Tamlin's court made me wickedly laugh a few times, I LOVE HER. Her character has come so far from the human she was at the beginning of ACOTAR and I feel like a proud mother whenever I think about it, she's grown to be SO badass, cunning, selfless, SMART and BRAAAVE!!
Rhysand is my bae, love love love him, and throughout the book he was honestly just perfect. THE ENDING NEARLY BROKE MY HEART LIKE????? I NEARLY DIED. I LOVED how he treated Feyre, and honestly the people who still ship Feylin (is that still a thing????????) would 100% be converted over to Feysand. He treats her so much better than Tamlin did, and puts so much faith and trust in her, I adore it. He's so supportive of her and his friends, and he's the perfect picture of what a ruler should be. So many perfect scenes were in the book where he openly demonstrated that they're equals. IT MADE MY FEYSAND HEART SOAR. BUT speaking of Feysand, there were quite a lot of sex scenes that I don't think was really necessary
THE INNER CIRCLE THOUGH I HAVE SO MUCH LOVE FOR THEM!! Amren was honestly such a gem, I loved her so much, she's the smallest sassiest most SELFLESS person and I love her. MOR is so precious and I honestly didn't see that development coming, but props to SJM for including it! CASSIAN omg what a cheeky general, I love him and I loved the battle descriptions where he was described fighting. Beautiful. ALSO I loved how he played things out with Nesta, HAHA, like even though I wasn't a huuuuuge fan of Nesta, it was kinda ok. And, finally the sweetest most precious Azriel, I have so much love for him and even though he's a "dangerous" and "dark" he's really a sweet cinnamon bun who needs to be protected.
The Archeron sisters together were interesting, I didn't really like Nesta, just because she seemed so ungrateful and like just generally horrible I suppose?? I dunno, even after the ending I'm still kinda conflicted, but I guess I don't hate her but also don't love her. Elain, on the other hand, I wanted to protect her and to make sure she was ok, but she sure surprised me, like I did not see that coming at all. I love the friendship Elain has with Azriel, they're so precious. BUT one thing I really loved was how strong the female representation was! In this book, they're all their own characters and are just as, if not more respected than the males.
THE OTHER HIGH LORDS THOUGH 😲 I loved meeting them, they were all amazing except for Tamlin and Beron. Those two can die for all I care ¯\_(ツ)_/¯. In fact, I'd probably be really happy if they died. Tamlin's actions in this book were horrendous and brought him waaaaay past the possibility of redemption. Beron was just an angry pile of poop. BUUUT all of the other High Lords were wonderful, and their partners too! My favourite was Viviane, Kallias of Winter Court's mate. I just thought she was amazing and hilarious.
The whole story flowed so beautifully, and I've read some reviews where people had problems with the pace, but honestly I just enjoyed the whole book from start to finish. I loved the touches of humour, and the BANTER, it made my heart so happy. AND!! The story was focused on war, but the seriousness was somewhat countered and I didn't find the book to be like one of those really harsh books I guess? If that makes sense?? I don't really want to say too much about the plot, because I think it's better if you don't have any expectations or ideas before reading the book, but it was just perfection.
I'm both super upset and super happy with how things ended, super happy because it was perfect, and super upset because the book had to end ☹ Sarah, please don't make me wait until 2018 for more!! 😢
---
ABOUT THE AUTHOR

Sarah J. Maas is the New York Times and USA Today bestselling author of the Throne of Glass series, as well as the A Court of Thorns and Roses series.Sarah lives in Bucks County, PA, and over the years, she has developed an unhealthy appreciation for Disney movies and bad pop music. She adores fairy tales and ballet, drinks too much tea, and watches an ungodly amount of TV. When she's not busy writing, she can be found exploring the historic and beautiful Pennsylvania countryside with her husband and canine companion.