Merlin's Beard, time has flown by so fast! Can't believe it's already June :O
How's everyone's reading progress? Do you think you'll make your Goodreads reading goals?? I hope so!
P.S. Click on a book's photo to go to the Goodreads page
---
10. Spellbook of the Lost and Found by Moïra Fowley-Doyle
June 1st 2017
One stormy summer night, Olive and her best friend, Rose, begin to lose things. It starts with simple items like hair clips and jewellery, but soon it's clear that Rose has lost something bigger; something she won't talk about.
Then Olive meets three wild, mysterious strangers: Ivy, Hazel and Rowan. Like Rose, they're mourning losses – and holding tight to secrets.
When they discover the ancient spellbook, full of hand-inked charms to conjure back lost things, they realise it might be their chance to set everything right. Unless it's leading them towards secrets that were never meant to be found . . .
---
9. Roar by Cora Carmack 
June 13th 2017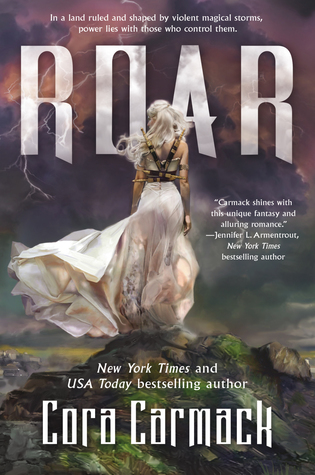 In a land ruled and shaped by violent magical storms, power lies with those who control them.
Aurora Pavan comes from one of the oldest Stormling families in existence. Long ago, the ungifted pledged fealty and service to her family in exchange for safe haven, and a kingdom was carved out from the wildlands and sustained by magic capable of repelling the world's deadliest foes. As the sole heir of Pavan, Aurora's been groomed to be the perfect queen. She's intelligent and brave and honorable. But she's yet to show any trace of the magic she'll need to protect her people.
To keep her secret and save her crown, Aurora's mother arranges for her to marry a dark and brooding Stormling prince from another kingdom. At first, the prince seems like the perfect solution to all her problems. He'll guarantee her spot as the next queen and be the champion her people need to remain safe. But the more secrets Aurora uncovers about him, the more a future with him frightens her. When she dons a disguise and sneaks out of the palace one night to spy on him, she stumbles upon a black market dealing in the very thing she lacks—storm magic. And the people selling it? They're not Stormlings. They're storm hunters.
Legend says that her ancestors first gained their magic by facing a storm and stealing part of its essence. And when a handsome young storm hunter reveals he was born without magic, but possesses it now, Aurora realizes there's a third option for her future besides ruin or marriage.
She might not have magic now, but she can steal it if she's brave enough.
Challenge a tempest. Survive it. And you become its master.
---
8. Internet Famous by Danika Stone 
June 6th 2017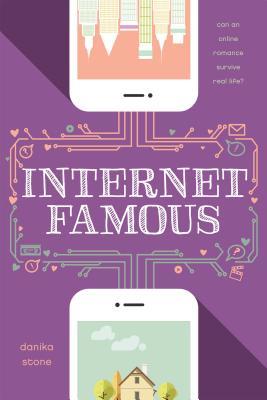 High school senior and internet sensation Madison Nakama seems to have it all: a happy family, good grades, and a massive online following for her pop-culture blog. But when her mother suddenly abandons the family, Madi finds herself struggling to keep up with all of her commitments.
Fandom to the rescue! As her online fans band together to help, an online/offline flirtation sparks with Laurent, a French exchange student. Their internet romance—played out in the comments section of her MadLibs blog—attracts the attention of an internet troll who threatens the separation of Madi's real and online personas. With her carefully constructed life unraveling, Madi must uncover the hacker's identity before he can do any more damage, or risk losing the people she loves the most… Laurent included.
---
7. Aftercare Instructions by Bonnie Pipkin
June 27th 2017
In the tradition of Jandy Nelson and Rainbow Rowell, a big-hearted journey of furious friendship, crazy love, and unexpected hope after a teen's decision to end an unwanted pregnancy
"Troubled." That's seventeen-year-old Genesis according to her small New Jersey town. She finds refuge and stability in her relationship with her boyfriend, Peter—until he abandons her at a Planned Parenthood clinic during their appointment to terminate an unwanted pregnancy. The betrayal causes Gen to question everything.
As Gen pushes herself forward to find her new identity without Peter, she must also confront her most painful memories. Through the lens of an ongoing four act play within the novel, the fantasy of their undying love unravels line by line, scene by scene. Digging deeper into her past while exploring the underground theater world of New York City, she rediscovers a long-forgotten dream. But it's when Gen lets go of her history, the one she thinks she knows, that she's finally able to embrace the complicated, chaotic true story of her life, and take center stage.
This powerfully immersive and format-crushing debut follows Gen from dorm rooms to diners to house parties to auditions—and ultimately, right into readers' hearts.
---
6. The Evaporation of Sofi Snow by Mary Weber
June 6th 2017

Ever since the Delonese ice-planet arrived eleven years ago, Sofi's dreams have been vivid. Alien. In a system where Earth's corporations rule in place of governments and the humanoid race orbiting the moon are allies, her only constant has been her younger brother, Shilo. As an online gamer, Sofi battles behind the scenes of Earth's Fantasy Fighting arena where Shilo is forced to compete in a mix of real and virtual blood sport. But when a bomb takes out a quarter of the arena, Sofi's the only one who believes Shilo survived. She has dreams of him. And she's convinced he's been taken to the ice-planet.
Except no one but ambassadors are allowed there.
For Miguel, Earth's charming young playboy, the games are of a different sort. As Ambassador to the Delonese, his career has been built on trading secrets and seduction. Until the Fantasy Fight's bomb goes off. Now the tables have turned and he's a target for blackmail. The game is simple: Help the blackmailers, or lose more than anyone can fathom, or Earth can afford.
---
5. Song of the Current by Sarah Tolcser
June 6th 2017

Caroline Oresteia is destined for the river. For generations, her family has been called by the river god, who has guided their wherries on countless voyages throughout the Riverlands. At seventeen, Caro has spent years listening to the water, ready to meet her fate. But the river god hasn't spoken her name yet—and if he hasn't by now, there's a chance he never will.
Caro decides to take her future into her own hands when her father is arrested for refusing to transport a mysterious crate. By agreeing to deliver it in exchange for his release, Caro finds herself caught in a web of politics and lies, with dangerous pirates after the cargo—an arrogant courier with a secret—and without the river god to help her. With so much at stake, Caro must choose between the life she always wanted and the one she never could have imagined for herself.
From debut author Sarah Tolcser comes an immersive and romantic fantasy set along the waterways of a magical world with a headstrong heroine determined to make her mark.
---
4. Midnight Jewel by Richelle Mead
June 27th 2017
In MIDNIGHT JEWEL, Richelle Mead goes beyond the glitz and glamour of the Glittering Court, delving into the dark, political underbelly of Cape Triumph through the eyes of one girl who dares to fight for her freedom.
A refugee of war, Mira was cast out of her home country and thrust into another, where the conditions were inhospitable at best. In a life-altering twist of fate, she is given the chance to escape once more, and she takes it, joining the Glittering Court.
Both a school and a business venture, the Glittering Court is designed to transform impoverished girls into upper-class ladies who appear destined for powerful and wealthy marriages in the New World. There, Mira finds herself subjected to persecution, not only from her fellow Glittering Court jewels, but from her suitors, as well—men she would potentially be expected to give her life to.
By day, she goes through the motions, learning the etiquette and customs that will help to earn her anonymity, even making a couple true friends in the process, the forthright ladies' maid Adelaide and the ambitious laundress Tamsin. But by night, Mira hatches a different plan entirely—one that, if exposed, could get her hanged in the highest court of Adoria.
MIDNIGHT JEWEL is the extraordinary story of a girl with few options who courageously forges a new path, finding love, passion, lifelong friendships, and maybe even a way to freedom.
---
3. The Gentlemen's Guide to Vice and Virtue by Mackenzi Lee
June 27th 2017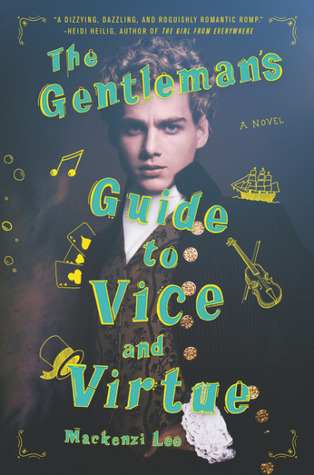 An unforgettable tale of two friends on their Grand Tour of 18th-century Europe who stumble upon a magical artifact that leads them from Paris to Venice in a dangerous manhunt, fighting pirates, highwaymen, and their feelings for each other along the way.
Henry "Monty" Montague was born and bred to be a gentleman, but he was never one to be tamed. The finest boarding schools in England and the constant disapproval of his father haven't been able to curb any of his roguish passions—not for gambling halls, late nights spent with a bottle of spirits, or waking up in the arms of women or men.
But as Monty embarks on his grand tour of Europe, his quest for a life filled with pleasure and vice is in danger of coming to an end. Not only does his father expect him to take over the family's estate upon his return, but Monty is also nursing an impossible crush on his best friend and traveling companion, Percy.
Still it isn't in Monty's nature to give up. Even with his younger sister, Felicity, in tow, he vows to make this yearlong escapade one last hedonistic hurrah and flirt with Percy from Paris to Rome. But when one of Monty's reckless decisions turns their trip abroad into a harrowing manhunt that spans across Europe, it calls into question everything he knows, including his relationship with the boy he adores.
Witty, romantic, and intriguing at every turn, The Gentleman's Guide to Vice and Virtue is a sumptuous romp that explores the undeniably fine lines between friendship and love.
---
2. Our Dark Duet by Victoria Schwab
June 13th 2017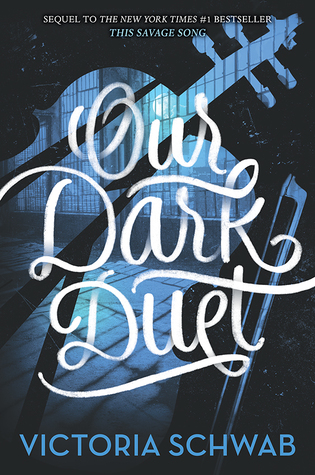 Kate Harker is a girl who isn't afraid of the dark. She's a girl who hunts monsters. And she's good at it. August Flynn is a monster who can never be human, no matter how much he once yearned for it. He's a monster with a part to play. And he will play it, no matter the cost.
Nearly six months after Kate and August were first thrown together, the war between the monsters and the humans is terrifying reality. In Verity, August has become the leader he never wished to be, and in Prosperity, Kate has become the ruthless hunter she knew she could be. When a new monster emerges from the shadows—one who feeds on chaos and brings out its victim's inner demons—it lures Kate home, where she finds more than she bargained for. She'll face a monster she thought she killed, a boy she thought she knew, and a demon all her own.
---
1.  Now I Rise by Kiersten White
June 27th 2017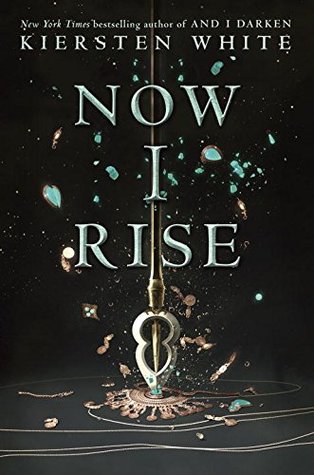 Lada Dracul has no allies. No throne. All she has is what she's always had: herself. After failing to secure the Wallachian throne, Lada is out to punish anyone who dares to cross her blood-strewn path. Filled with a white-hot rage, she storms the countryside with her men, accompanied by her childhood friend Bogdan, terrorizing the land. But brute force isn't getting Lada what she wants. And thinking of Mehmed brings little comfort to her thorny heart. There's no time to wonder whether he still thinks about her, even loves her. She left him before he could leave her.
What Lada needs is her younger brother Radu's subtlety and skill. But Mehmed has sent him to Constantinople—and it's no diplomatic mission. Mehmed wants control of the city, and Radu has earned an unwanted place as a double-crossing spy behind enemy lines. Radu longs for his sister's fierce confidence—but for the first time in his life, he rejects her unexpected plea for help. Torn between loyalties to faith, to the Ottomans, and to Mehmed, he knows he owes Lada nothing. If she dies, he could never forgive himself—but if he fails in Constantinople, will Mehmed ever forgive him?
As nations fall around them, the Dracul siblings must decide: what will they sacrifice to fulfill their destinies? Empires will topple, thrones will be won . . . and souls will be lost.
---
So what did you guys think! Agree or disagree with anything? Let me know!