The Sun Is Also A Star by Nicola Yoon
Published October 31, 2016 by Corgi Childrens
RRP AUD $19.99
★★★★☆
Natasha: I'm a girl who believes in science and facts. Not fate. Not destiny. Or dreams that will never come true. I'm definitely not the kind of girl who meets a cute boy on a crowded New York City street and falls in love with him. Not when my family is twelve hours away from being deported to Jamaica. Falling in love with him won't be my story.

Daniel: I've always been the good son, the good student, living up to my parents' high expectations. Never the poet. Or the dreamer. But when I see her, I forget about all that. Something about Natasha makes me think that fate has something much more extraordinary in store—for both of us.

The Universe: Every moment in our lives has brought us to this single moment. A million futures lie before us. Which one will come true?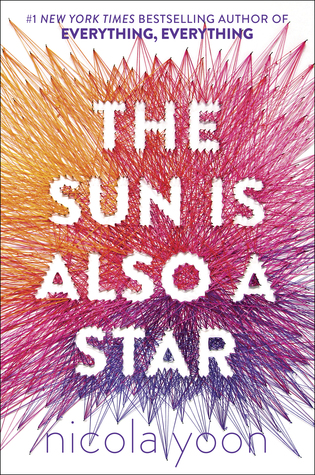 Beautiful. So beautiful. Nicola Yoon has weaved a wonderful love story. The story itself is wonderfully thought through, I loved how everything was somewhat based off of chances and the little string of events that made up the main story line.
I loved how the book was written. There were alternating PoVs from the main characters, as well as chapters about the histories and future histories of side characters and scientific entomologies, which I thought was pretty cool.
The character development was surprisingly good even though the main story spanning a single day. Natasha started out very determined and practical, a woman on a mission, and she adamantly refused to believe in anything that didn't have a scientific explanation behind it. I'm a sucker for science in YA and I really enjoyed how clever and practical Natasha was. Whereas Daniel, a poet, was an earnest dreamer hoping to change her views.
Nicola has incorporated diversity through main duo, Jamaican Natasha and Korean-American Daniel, and she's done such a wonderful job of bringing the characters' cultures to life, properly explaining and educating the audience about things like what the Jamaican/African American hairstyles mean and their significance in history. Her characters are also very relatable, me being of Asian descent, I can really relate to Daniel and I understand the family pressures and viewpoints on certain topics.
However, it gets even better. The story is set in the USA where Natasha's family is faced with the looming threat of deportation. Not a lot of YA novels I've read or heard about really discuss deportation, but now that things have been changing in the world, especially over in the USA, it seems that it could become a scary reality. It's dealt with very seriously and I was actually pretty happy with how things turn out in the end, even if it wasn't exactly what I was expecting.
I received a review copy from the publisher.
---
ABOUT THE AUTHOR