Ahhh, there are so many wonderful books coming out this month! But, you guys know what I'm really excited for? If Pets Had Thumbs Day on March 3. I don't really know what it celebrates, but I do know that I'm down for it.
P.S. Click on a book's photo to go to the Goodreads page
---
9. The End of Oz (Dorothy Must Die #4) by Danielle Paige
March 14th 2017
I haven't actually started this series yet, but I did read Danielle Paige's other novel, Stealing Snow, and to be quite honest, it wasn't anything special. BUT I have heard wonderful things about the Dorothy Must Die series, so I'm willing to give it a go.
In this high-octane fourth book in the New York Times bestselling Dorothy Must Die series, Amy Gumm must do everything in her power to save Kansas and make Oz a free land once more.

At the end of Yellow Brick War, Amy had finally defeated Dorothy. Just when she and the rest of the surviving members of the Revolutionary Order of the Wicked thought it was safe to start rebuilding the damaged land of Oz, they realized they've been betrayed—by one of their own. And Dorothy might not have been so easily defeated after all.

In the fourth installment of the New York Times bestselling Dorothy Must Die series, the magical Road of Yellow Brick has come to the rescue, and whisked Amy away—but to where? Does the Road itself know where she needs to go to find the help that she needs?

Welcome to the other side of the rainbow. Here there's danger around every corner, and magic shoes won't be able to save you.
---
8. The Song Rising (The Bone Season #3) by Samantha Shannon
March 7th 2017
I've heard so much hype over this series (even though I haven't read them myself), so it's only fitting that the next instalment be included in this list!
The hotly anticipated third book in the bestselling Bone Season series – a ground-breaking, dystopian fantasy of extraordinary imagination

Following a bloody battle against foes on every side, Paige Mahoney has risen to the dangerous position of Underqueen, ruling over London's criminal population.

But, having turned her back on Jaxon Hall and with vengeful enemies still at large, the task of stabilising the fractured underworld has never seemed so challenging.

Little does Paige know that her reign may be cut short by the introduction of Senshield, a deadly technology that spells doom for the clairvoyant community and the world as they know it…
---
7. A Crown of Wishes (The Star-Touched Queen #2) by Roshani Chokshi
March 28th 2017
I read the first in the series, but to be honest it didn't really stand out as anything special to me. Here's hoping the second will blow me away!!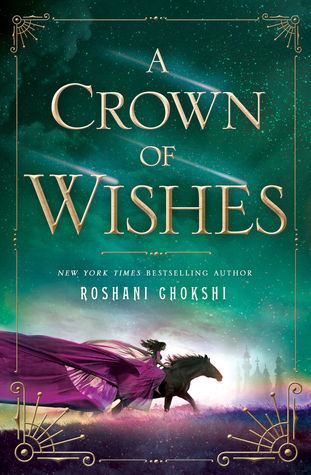 Gauri, the princess of Bharata, has been taken as a prisoner of war by her kingdom's enemies. Faced with a future of exile and scorn, Gauri has nothing left to lose. Hope unexpectedly comes in the form of Vikram, the cunning prince of a neighboring land and her sworn enemy kingdom. Unsatisfied with becoming a mere puppet king, Vikram offers Gauri a chance to win back her kingdom in exchange for her battle prowess. Together, they'll have to set aside their differences and team up to win the Tournament of Wishes—a competition held in a mythical city where the Lord of Wealth promises a wish to the victor.

Reaching the tournament is just the beginning. Once they arrive, danger takes on new shapes: poisonous courtesans and mischievous story birds, a feast of fears and twisted fairy revels.

Every which way they turn new trials will test their wit and strength. But what Gauri and Vikram will soon discover is that there's nothing more dangerous than what they most desire.
---
6. The Inexplicable Logic of My Life by Benjamin Alire Sáenz
March 7th 2017

I love how diverse this story sounds! I have another one of Benjamin's books, Aristotle and Dante Discover the Secrets of the Universe (can I just point out that he seems to have a penchant for long titles? haha), but I haven't been able to read it yet.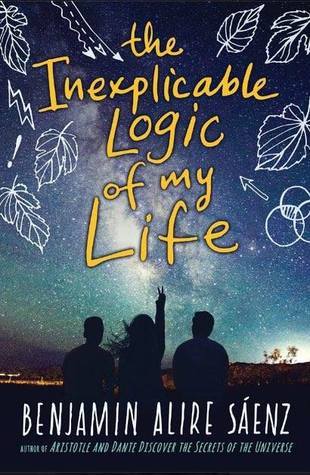 From the multi-award-winning author of Aristotle and Dante Discover the Secrets of the Universe comes a gorgeous new story about love, identity, and families lost and found.

Sal used to know his place with his adoptive gay father, their loving Mexican-American family, and his best friend, Samantha. But it's senior year, and suddenly Sal is throwing punches, questioning everything, and realizing he no longer knows himself. If Sal's not who he thought he was, who is he?

This humor-infused, warmly humane look at universal questions of belonging is a triumph.
---
5. Blood Rose Rebellion (Blood Rose Rebellion #1) by Rosalyn Eves
March 28th 2017

I enjoyed Red Queen, but it wasn't phenomenal, but this sounds like it shows a lot more promise! I'm loving the cover too.
The thrilling first book in a YA fantasy trilogy for fans of Red Queen. In a world where social prestige derives from a trifecta of blood, money, and magic, one girl has the ability to break the spell that holds the social order in place.

Sixteen-year-old Anna Arden is barred from society by a defect of blood. Though her family is part of the Luminate, powerful users of magic, she is Barren, unable to perform the simplest spells. Anna would do anything to belong. But her fate takes another course when, after inadvertently breaking her sister's debutante spell—an important chance for a highborn young woman to show her prowess with magic—Anna finds herself exiled to her family's once powerful but now crumbling native Hungary.

Her life might well be over.

In Hungary, Anna discovers that nothing is quite as it seems. Not the people around her, from her aloof cousin Noémi to the fierce and handsome Romani Gábor. Not the society she's known all her life, for discontent with the Luminate is sweeping the land. And not her lack of magic. Isolated from the only world she cares about, Anna still can't seem to stop herself from breaking spells.

As rebellion spreads across the region, Anna's unique ability becomes the catalyst everyone is seeking. In the company of nobles, revolutionaries, and Romanies, Anna must choose: deny her unique power and cling to the life she's always wanted, or embrace her ability and change that world forever.
---
4. The Bone Witch (The Bone Witch #1) by Rin Chupeco
March 7th 2017

Everything about this book seems interesting, from the name itself, the cover and the synopsis. I CANNOT wait to get my hands on this!!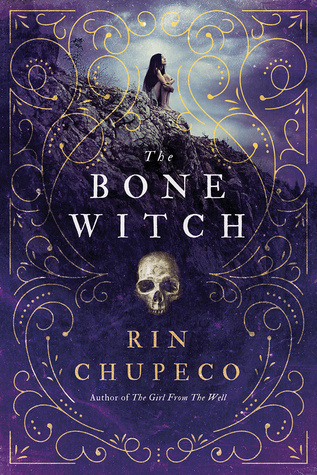 In the captivating start to a new, darkly lyrical fantasy series for readers of Leigh Bardugo and Sabaa Tahir, Tea can raise the dead, but resurrection comes at a price…

Let me be clear: I never intended to raise my brother from his grave, though he may claim otherwise. If there's anything I've learned from him in the years since, it's that the dead hide truths as well as the living.

When Tea accidentally resurrects her brother from the dead, she learns she is different from the other witches in her family. Her gift for necromancy means that she's a bone witch, a title that makes her feared and ostracized by her community. But Tea finds solace and guidance with an older, wiser bone witch, who takes Tea and her brother to another land for training.

In her new home, Tea puts all her energy into becoming an asha-one who can wield elemental magic. But dark forces are approaching quickly, and in the face of danger, Tea will have to overcome her obstacles…and make a powerful choice.

Memoirs of a Geisha meets The Name of the Wind in this brilliant new fantasy series by Rin Chupeco!
---
3. Hunted by Meagan Spooner
March 14th 2017

At first glance, the cover gave me a red-riding hood type vibe, but upon reading the synopsis I found that it was actually a Beauty and the Beast retelling! My last Beauty and the Beast retelling – ACOTAR by Sarah J. Maas, if you're wondering – was so amazing, so I have high hopes for this!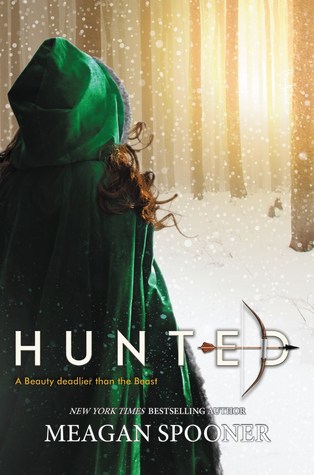 Beauty knows the Beast's forest in her bones—and in her blood. Though she grew up with the city's highest aristocrats, far from her father's old lodge, she knows that the forest holds secrets and that her father is the only hunter who's ever come close to discovering them.

So when her father loses his fortune and moves Yeva and her sisters back to the outskirts of town, Yeva is secretly relieved. Out in the wilderness, there's no pressure to make idle chatter with vapid baronessas…or to submit to marrying a wealthy gentleman. But Yeva's father's misfortune may have cost him his mind, and when he goes missing in the woods, Yeva sets her sights on one prey: the creature he'd been obsessively tracking just before his disappearance.

Deaf to her sisters' protests, Yeva hunts this strange Beast back into his own territory—a cursed valley, a ruined castle, and a world of creatures that Yeva's only heard about in fairy tales. A world that can bring her ruin or salvation. Who will survive: the Beauty, or the Beast?
---
2. Seven Days of You by Cecilia Vinesse
March 9th 2017

I was lucky enough to receive a review copy of this in the mail a few days ago, and it looks SO ADORABLE. I can't wait to start it!
Sophia has seven days left in Tokyo before she moves back to the States. Seven days to say good-bye to the electric city, her wild best friend, and the boy she's harbored a semi-secret crush on for years. Seven perfect days…until Jamie Foster-Collins moves back to Japan and ruins everything.

Jamie and Sophia have a history of heartbreak, and the last thing Sophia wants is for him to steal her leaving thunder with his stupid arriving thunder. Yet as the week counts down, the relationships she thought were stable begin to explode around her. And Jamie is the one who helps her pick up the pieces. Sophia is forced to admit she may have misjudged Jamie, but can their seven short days of Tokyo adventures end in anything but good-bye?
---
1. Strange the Dreamer (Strange the Dreamer #1) by Laini Taylor  
March 28th 2017

Everything about this book is intriguing, I'm so excited for this!!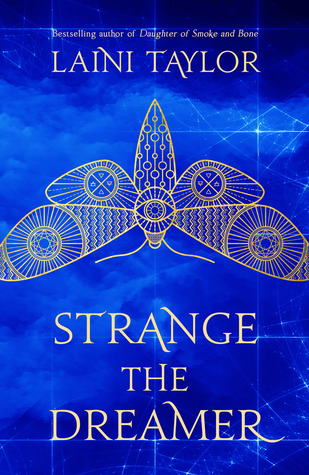 A brand new, heart-stopping novel and the first in a thrilling duology from the much-loved author of the DAUGHTER OF SMOKE AND BONE trilogy, Laini Taylor.

The dream chooses the dreamer, not the other way around – and Lazlo Strange, war orphan and junior librarian, has always feared that his dream chose poorly. Since he was five years old he's been obsessed with the mythic lost city of Weep, but it would take someone bolder than he to cross half the world in search of it. Then a stunning opportunity presents itself, in the person of a hero called the Godslayer and a band of legendary warriors, and he has to seize his chance to lose his dream forever.

What happened in Weep two hundred years ago to cut it off from the rest of the world? What exactly did the Godslayer slay that went by the name of god? And what is the mysterious problem he now seeks help in solving?

The answers await in Weep, but so do more mysteries – including the blue-skinned goddess who appears in Lazlo's dreams. How did he dream her before he knew she existed? And if all the gods are dead, why does she seem so real?

In this sweeping and breathtaking new novel by National Book Award finalist Laini Taylor, author of the New York Times bestselling Daughter of Smoke & Bone trilogy, the shadow of the past is as real as the ghosts who haunt the citadel of murdered gods. Fall into a mythical world of dread and wonder, moths and nightmares, love and carnage.
---
So what did you guys think! Agree or disagree with anything? Let me know!