I am so sorry for being a bit late! I took my driving test yesterday (I passed!) and completely forgot!!
There are a lot of good books coming out this month, but I've rounded up my top 12 most anticipated, let the listing commence!
P.S. Click on a book's photo to go to the Goodreads page
---
9. Rise of Fire (Reign of Shadows #2) by Sophie Jordan
February 7th 2017
So much effort is being put into these covers omg! How gorgeous is it though??? Totally pays off.
The richly suspenseful sequel to Sophie Jordan's romantic fantasy Reign of Shadows.

Luna and Fowler have escaped the kingdom of Relhok, but they haven't escaped the darkness. When a battle against the dark dwellers mortally injures Fowler, Luna is faced with a choice: put their fate in the hands of mysterious strangers or risk losing Fowler forever.

Desperate to keep the one bright part of her life alive, Luna accepts the help of soldiers from a nearby kingdom. Lagonia's castle offers reprieve from the dangerous outside world—until the king discovers both Fowler's and Luna's true ties to Relhok and their influence over the throne.

Now pawns in each kingdom's political game, Luna and Fowler are more determined than ever to escape and build the life they've been dreaming of. But their own pasts have a tight hold on their hearts and their destinies. Luna must embrace the darkness and fire within her before she loses not only Fowler, but the power she was destined to inherit.
---
8. Lifeblood (Everlife, #2) by Gena Showalter
February 28th 2017
I have the first book, and it looks so good, but I haven't had time to read it yet. I'll get this one when it comes out and then hopefully I can binge-read the two!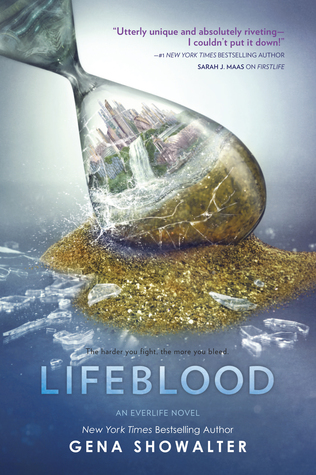 My Firstlife is over, but my Everlife is only now beginning.

With her last living breath, Tenley "Ten" Lockwood made her choice and picked her realm in the Everlife. Now, as the war between Troika and Myriad rages, she must face the consequences.

Because Ten possesses a rare supernatural ability to absorb and share light, the Powers That Be have the highest expectations for her future—and the enemy wants her neutralized. Fighting to save her Secondlife, she must learn about her realm from the ground up while launching her first mission: convincing a select group of humans to join her side before they die. No pressure, right?

But Ten's competition is Killian, the boy she can't forget—the one who gave up everything for her happiness. He has only one shot at redemption: beating Ten at a game she's never even played. As their throw-downs heat up, so do their undeniable feelings, and soon, Ten will have to make another choice. Love…or victory.
---
7. One Blood Ruby (Seven Black Diamonds #2) by Melissa Marr
February 28th 2017
I have a few of Melissa Marr's books, and even though I haven't read them yet (I know, I'm terrible), a lot of people in the book community really like her books, so here it is!
Now that Lilywhite Abernathy is the heir to the Hidden Lands, everything is about to change.

The Queen of Blood and Rage wants Lily to help broker peace with the human world, but Lily knows that harmony won't come easily. After decades of waging war on the humans, who cost the queen her firstborn daughter, the fae are struggling to accept Lily, a half-human monarch. And the humans, while no match against faery affinities, will hardly agree to the queen's détente without resistance.

Lily wants to be a fair ruler but fears having to abandon the life she's known to do so. Now that she and Creed are more than just fellow Black Diamonds—operatives for the queen—her priorities have shifted. But her worries about assuming the throne are derailed when it becomes clear that someone—or some fae—is masterminding violent attacks to discourage peace.

In this gripping follow-up to Melissa Marr's lush Seven Black Diamonds, Lily and her friends are forced to reckon with the truth of their own parentage and to protect one of their own, no matter what—or who—comes between them.
---
6. Long May She Reign by Rhiannon Thomas
February 21st 2017

I'm a sucker for books with pretty covers. Y'know how they say "don't judge a book by its cover"? Well, I do exactly that. ¯\_(ツ)_/¯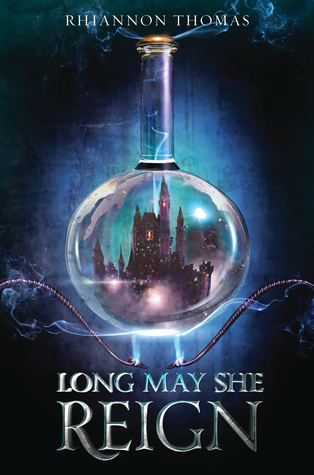 The Girl of Fire and Thorns meets The Queen of the Tearling in this thrilling fantasy standalone about one girl's unexpected rise to power.

Freya was never meant be queen. Twenty third in line to the throne, she never dreamed of a life in the palace, and would much rather research in her laboratory than participate in the intrigues of court. However, when an extravagant banquet turns deadly and the king and those closest to him are poisoned, Freya suddenly finds herself on the throne.

Freya may have escaped the massacre, but she is far from safe. The nobles don't respect her, her councillors want to control her, and with the mystery of who killed the king still unsolved, Freya knows that a single mistake could cost her the kingdom – and her life.

Freya is determined to survive, and that means uncovering the murderers herself. Until then, she can't trust anyone. Not her advisors. Not the king's dashing and enigmatic illegitimate son. Not even her own father, who always wanted the best for her, but also wanted more power for himself.

As Freya's enemies close in and her loyalties are tested, she must decide if she is ready to rule and, if so, how far she is willing to go to keep the crown.
---
5. The Witch's Tears (The Witch's Kiss, #2) by Katharine Corr
February 2nd 2017

I haven't read the first one yet, but I hope too soon! And the cover looks wicked (see what I did there? Mwahahaa).
Can true love's kiss break your heart…? The spellbinding sequel to THE WITCH'S KISS by authors and sisters, Katharine and Elizabeth Corr. It's not easy being a teenage witch. Just ask Merry. She's drowning in textbooks and rules set by the coven; drowning in heartbreak after the loss of Jack. But Merry's not the only one whose fairy tale is over. Big brother Leo is falling apart and everything Merry does seems to push him further to the brink. And everything that happens to Leo makes her ache for revenge. So when strangers offering friendship show them a different path they'd be mad not to take it…Some rules were made to be broken, right? The darkly magical sequel to THE WITCH'S KISS burns wickedly bright.
---
4. The Valiant (The Valiant, #1) by Lesley Livingston
February 14th 2017

I love how this looks!! I really enjoy books with strong female protagonists and based off of the cover and synopsis, I think this is going to be a good one!
The youngest daughter of a proud Celtic king, Fallon has always lived in the shadow of her older sister Sorcha's legendary reputation as a warrior. But when Fallon was a young child, the armies of Julius Caesar invaded the island of Britain and her beloved older sister was killed in battle.

On the eve of her seventeenth birthday, Fallon is excited to follow in her sister's footsteps and earn her rightful place in her father's royal war band. But she never gets the chance. Instead, Fallon is captured by a band of ruthless brigands who sell her to an exclusive training school for female gladiators—and its most influential patron is none other than Julius Caesar himself. In a cruel twist of fate, Fallon's worst enemy, the man who destroyed her family, might be her only hope of survival.

Now, Fallon must overcome vicious rivalries, chilling threats and the dangerous attention of Caesar himself to survive the deadly fights that take place both in and out of the arena—and claim her place in history among the Valiant.
---
3. Empress of a Thousand Skies by Rhoda Belleza
February 7th 2017

I love space. SO MUCH. The cover is absolutely stunning too omg.
Empress
Rhee, also known as Crown Princess Rhiannon Ta'an, is the sole surviving heir to a powerful dynasty. She'll stop at nothing to avenge her family and claim her throne.

Fugitive
Aly has risen above his war refugee origins to find fame as the dashing star of a DroneVision show. But when he's falsely accused of killing Rhee, he's forced to prove his innocence to save his reputation – and his life.

Madman
With planets on the brink of war, Rhee and Aly are thrown together to confront a ruthless evil that threatens the fate of the entire galaxy.

A saga of vengeance, warfare, and the true meaning of legacy.
---
2. Wintersong by S. Jae-Jones
February 7th 2017

This look amazing and lowkey gives me Beauty and the Beast vibes.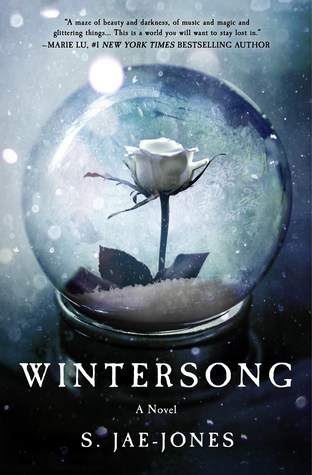 Beware the goblin men and the wares they sell.

All her life, nineteen-year-old Liesl has heard tales of the beautiful, mysterious Goblin King. He is the Lord of Mischief, the Ruler Underground, and the muse around which her music is composed. Yet, as Liesl helps shoulder the burden of running her family's inn, her dreams of composition and childish fancies about the Goblin King must be set aside in favor of more practical concerns.

But when her sister Käthe is taken by the goblins, Liesl journeys to their realm to rescue her sister and return her to the world above. The Goblin King agrees to let Käthe go—for a price. The life of a maiden must be given to the land, in accordance with the old laws. A life for a life, he says. Without sacrifice, nothing good can grow. Without death, there can be no rebirth. In exchange for her sister's freedom, Liesl offers her hand in marriage to the Goblin King. He accepts.

Down in the Underground, Liesl discovers that the Goblin King still inspires her—musically, physically, emotionally. Yet even as her talent blossoms, Liesl's life is slowly fading away, the price she paid for becoming the Goblin King's bride. As the two of them grow closer, they must learn just what it is they are each willing to sacrifice: her life, her music, or the end of the world.
---
1. King's Cage (Red Queen, #3) by Victoria Aveyard
February 9th 2017

YAAAAAASSSSSSSSS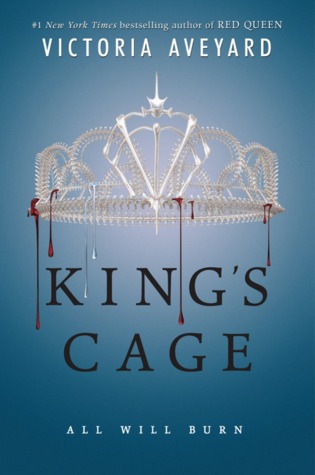 In this breathless third installment to Victoria Aveyard's bestselling Red Queen series, allegiances are tested on every side. And when the Lightning Girl's spark is gone, who will light the way for the rebellion?

Mare Barrow is a prisoner, powerless without her lightning, tormented by her lethal mistakes. She lives at the mercy of a boy she once loved, a boy made of lies and betrayal. Now a king, Maven Calore continues weaving his dead mother's web in an attempt to maintain control over his country—and his prisoner.

As Mare bears the weight of Silent Stone in the palace, her once-ragtag band of newbloods and Reds continue organizing, training, and expanding. They prepare for war, no longer able to linger in the shadows. And Cal, the exiled prince with his own claim on Mare's heart, will stop at nothing to bring her back.

When blood turns on blood, and ability on ability, there may be no one left to put out the fire—leaving Norta as Mare knows it to burn all the way down.
---
So what did you guys think! Agree or disagree with anything? Let me know!