A Quiet Kind of Thunder by Sara Barnard
Published January 10, 2017 by Macmillan Children's Books
RRP AUD $16.99
★★★★☆
Steffi doesn't talk, but she has so much to say.
Rhys can't hear, but he can listen.
Their love isn't a lightning strike, it's the rumbling roll of thunder.

Steffi has been a selective mute for most of her life – she's been silent for so long that she feels completely invisible. But Rhys, the new boy at school, sees her. He's deaf, and her knowledge of basic sign language means that she's assigned to look after him. To Rhys, it doesn't matter that Steffi doesn't talk, and as they find ways to communicate, Steffi finds that she does have a voice, and that she's falling in love with the one person who makes her feel brave enough to use it.

From the bestselling author of Beautiful Broken Things comes a love story about the times when a whisper is as good as a shout.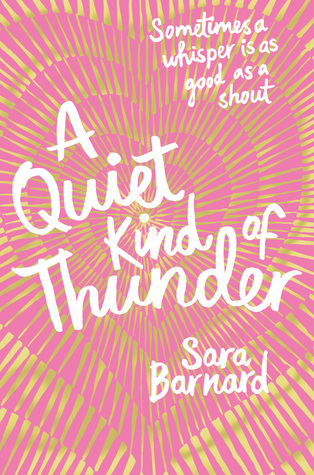 SUCH A CUTE BOOK OMG
This is the first book I read by Sara Barnard, and I'm pleasantly surprised at how much I enjoyed it. I loved watching the friendship and romantic relationship aspects develop. Sara didn't waste any time introducing extra details about the characters' physical descriptions or pasts, besides Steffi's brief intro, so it felt as if I already knew them. The characters were all generally lovely, and I enjoyed how supportive most of Steffi's family were right off the bat.
I always say this, but sometimes when an author writes in diverse characters, it feels as though they're included just for the sake of it, but it was clear that Sara conducted a lot of research into the fields of mental illnesses, as well as sign language and how the deaf community works. I was quite a fan of how character diversity and more sensitive topics were worked in gently with no special fanfare about it. While I don't have any experience with anxiety, I do think Steffi's anxiety was depicted accurately, and I could feel how stressed and panicked she was. There was a page in the book that gave a brilliant insight to Steffi's thought process while she was panicking, and it really added to the general feel of the book.
The relationships between the characters were heartfelt and genuine, and I'm not just talking about the main couple, Steffi and Rhys. Steffi and her best friend, Tem, are definitely friendship goals! I loved how comfortable they were with each other, and even though they had their ups and downs, it was nice to see the friendship last, and I loved the constant love and support given by the characters throughout the story.
Steffi and Rhys were so cute together!! It was refreshing to see how real their relationship was portrayed, especially the awkward first-times! I loved how the book had none of that girl-meets-boy-and-is-instantly-healed stuff, Steffi knew it was the medication helping her out, giving an overall positive message that it is ok to use medication to help.
While reading, the characters switched from speaking aloud, to sign-language to text message, and it was easy to follow, except there was a part in chapter 13 where the texts were a bit difficult to follow because I think the texts were labelled wrong, but I kinda got it based on what they were saying. I liked how flexible the communication was, and how easy the characters switched from speaking to sign-language and how natural it seemed.
A Quiet Kind of Thunder had everything important in today's world, touching on racism, disabilities and first loves, all wrapped up in a wonderfully diverse book. I highly recommend it to anyone who likes a good contemporary!
I received a review copy from the publisher
---
ABOUT THE AUTHOR
Sara Barnard lives in Brighton and does all her best writing on trains. She loves books, book people and book things. She has been writing ever since she was too small to reach the 'on' switch on the family Amstrad computer. She gets her love of words from her dad, who made sure she always had books to read and introduced her to the wonders of second-hand book shops at a young age. She is the author of Beautiful Broken Things.