As a part of the A Quiet Kind of Thunder blog tour hosted by Pan Macmillan, I'm delighted to post this Q&A with the lovely Sara Barnard!
♡♡♡
Being an author has its hardships. What are some that you've encountered?
It involves spending a lot of time alone, and even more time in your own head, which can be quite isolating. You have to be able to be self-motivated in order to get things done, because there is no one checking in on you or making sure you're working. This has its upsides and downsides!
Continuing on from the question above, how did you overcome them, and what were your solutions?
I try and make sure I see other people regularly, especially other writers. It will never be the same as being in an office and having the social life that comes with it – even something as simple as having people to talk about the news with every day – but it's important to make sure you don't get too lonely.
What is some advice that you would give to aspiring authors?
Make sure your primary reason to write is for the joy of it. Everything else can spring from that, but love for it has to come first. It's natural to feel like getting published is the ultimate goal, but there's an awful lot that comes after that that isn't joyful (rejection, bad reviews, taxes, deadlines), so having that love for what you are writing/have written will help carry you through that. Being an author is a career, and it doesn't end at publication; it begins. So make sure you love it!
♡♡♡
---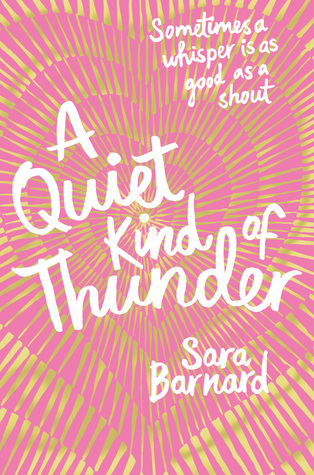 A Quiet Kind of Thunder by Sara Barnard
Published 10 January 2017 by Macmillan's Children's Books
RRP AUD $16.99
Steffi doesn't talk, but she has so much to say.
Rhys can't hear, but he can listen.
Their love isn't a lightning strike, it's the rumbling roll of thunder.

Steffi has been a selective mute for most of her life – she's been silent for so long that she feels completely invisible. But Rhys, the new boy at school, sees her. He's deaf, and her knowledge of basic sign language means that she's assigned to look after him. To Rhys, it doesn't matter that Steffi doesn't talk, and as they find ways to communicate, Steffi finds that she does have a voice, and that she's falling in love with the one person who makes her feel brave enough to use it.

From the bestselling author of Beautiful Broken Things comes a love story about the times when a whisper is as good as a shout.
---
ABOUT THE AUTHOR
Sara Barnard lives in Brighton and does all her best writing on trains. She loves books, book people and book things. She has been writing ever since she was too small to reach the 'on' switch on the family Amstrad computer. She gets her love of words from her dad, who made sure she always had books to read and introduced her to the wonders of second-hand book shops at a young age. She is the author of Beautiful Broken Things.