SEASON'S GREETINGS TO ALL! I'm so excited for Christmas! Ahhh.
P.S. Click on a book's photo to go to the Goodreads page
---
8. The Secret Life of a Witch by Jessica Sorensen
December 27th 2016
I read another one of Jessica's other series, Fallen Star, and really enjoyed it, so I'm looking forward to seeing what else she has up her sleeves!
My name is Evalee, and I have a secret. I'm a witch.

Okay, maybe it's not that big of a secret. At least not in Mystic Willow Bay where practically every paranormal creature lives.

Still, I have plenty of secrets. Like the fact that I suck at casting spells, which is a huge problem, considering I'm a witch. But I can talk to dead bodies and am secretly working on a spell that will hopefully revive my sister from the dead. Until I perfect the spell, I've hidden her body in the basement, something my parents are completely clueless about.

I'm also in love with my best friend, Hunter, one of the most popular wizards in school and who's completely out of my league in the dating department.

But I'm not the only person in Mystic Willow Bay that has secrets. And some are way worse than mine. Like whoever has been stealing dead bodies from the morgue and the graveyard. For what reason, I don't know, but I'm about to find out because they've stolen my sister's body, and I need to get it back before I miss out on my chance at bringing her back from the dead.
---
7. The Secret of a Heart Note by Stacey Lee
December 27th 2016

The synopsis sounds so good! And I love the humour in the tagline, haha. Stacey's other book, Outrun the Moon, was also featured on the May Anticipated Reads list!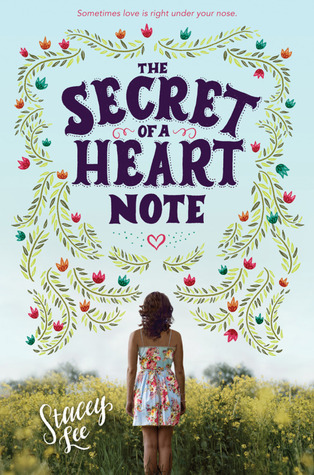 An evocative novel about a teen aroma expert who uses her extrasensitive sense of smell to mix perfumes that help others fall in love while protecting her own heart at all costs.

Sometimes love is right under your nose. As one of only two aromateurs left on the planet, sixteen-year-old Mimosa knows what her future holds: a lifetime of weeding, mixing love elixirs, and matchmaking—all while remaining incurably alone. For Mim, the rules are clear: falling in love would render her nose useless, taking away her one great talent. Still, Mimosa doesn't want to spend her life elbow-deep in soil and begonias. She dreams of a normal high school experience with friends, sports practices, debate club, and even a boyfriend. But when she accidentally gives an elixir to the wrong woman and has to rely on the lovesick woman's son, the school soccer star, to help fix the situation, Mim quickly begins to realize that falling in love isn't always a choice you can make.

At once hopeful, funny, and romantic, Stacey Lee's The Secret of a Heart Note is a richly evocative coming-of-age story that gives a fresh perspective on falling in love and finding one's place in the world.
---
6. Everyday Magic by Emily Albright
December 2nd 2016

This isn't the first book written by Emily, but it is the first one I've heard of, so I'm interested to see what it's like. The synopsis sounds really good too!
For once, Maggie McKendrick just wants to control her own life. Her overbearing Hollywood director father has it all planned out for her: UCLA, law school, then working as an entertainment lawyer, preferably for him. But Maggie has other, more creative-spirit friendly, plans. Namely, Thrippletons School of Fashion and Design in England, and then onto becoming a designer, preferably a wildly successful one. The big snag in her plan? Getting it past her dad.

A movie shoot takes the family to the Scottish Highlands for the summer, and closer to Maggie's dream school. While there, she runs into the charming Preston Browne. Maggie is intrigued and decides to bend her no guys rule—instituted after her ex used her to get close to her dad. Forced to keep secrets from Preston in order to protect the future plans she's made, Maggie finds herself falling for the tall Brit. And for once in her life she knows that he's interested in her, not her Hollywood connections. When Maggie's father blackmails her into dating his lead actor, she isn't left with a choice. The biggest problem isn't having to date hunky, mega-hottie, Ben Chambers. No, it's praying she doesn't lose Preston in the process.

Excelling at her dream school, Maggie's personal life is a tangled mess. She needs to decide if living a lie is worth losing Preston or chance going against her father and facing his wrath. When the tabloids expose the truth of her fake relationship with Ben, Maggie's world is thrown into a tailspin. Ultimately, Maggie must find the courage to take risks and forge ahead on her own path.
---
5. Black Moon (Zodiac #3) by Romina Russell
December 6th 2016

I haven't read the others in the series yet, but everyone seems to be talking about it so it's definitely a highly anticipated novel!
Book 3 in the breathtaking sci-fi space saga inspired by astrology that will stun fans of the Illuminae Files and Starbound series.

One final secret stands between Rho and the enemy. But will the devastating truth be enough to destroy her first?

Rho, the courageous visionary from House Cancer, lost nearly everything when she exposed and fought against the Marad, a mysterious terrorist group bent on destroying balance in the Zodiac Galaxy. Now, the Marad has disappeared without a trace, and an uneasy peace has been declared.

But Rho is suspicious. She believes the Master is still out there in some other form. And looming over all are the eerie visions of her mother, who died many years ago, but is now appearing to Rho in the stars.

When news of a stylish new political party supported by her best friend, Nishi, sends Rho on another journey across the galaxy, she uses it as an opportunity to hunt the hidden master and seek out information about her mother. And what she uncovers sheds light on the truth–but casts darkness upon the entire Zodiac world.
---
4. The Odds of Loving Grover Cleveland by Rebekah Crane
December 1st 2016

The story sounds like there's a lot going on, and I'm very interested to see how everything works out!
According to sixteen-year-old Zander Osborne, nowhere is an actual place—and she's just fine there. But her parents insist that she get out of her head—and her home state—and attend Camp Padua, a summer camp for at-risk teens.

Zander does not fit in—or so she thinks. She has only one word for her fellow campers: crazy. In fact, the whole camp population exists somewhere between disaster and diagnosis. There's her cabinmate Cassie, a self-described manic-depressive-bipolar-anorexic. Grover Cleveland (yes, like the president), a cute but confrontational boy who expects to be schizophrenic someday, odds being what they are. And Bek, a charmingly confounding pathological liar.

But amid group "share-apy" sessions and forbidden late-night outings, unlikely friendships form, and as the Michigan summer heats up, the four teens begin to reveal their tragic secrets. Zander finds herself inextricably drawn to Grover's earnest charms, and she begins to wonder if she could be happy. But first she must come completely unraveled to have any hope of putting herself back together again.
---
3. Spindle (A Thousand Nights #2) by E.K. Johnston
December 6th 2016

I haven't read A Thousand Nights yet, but I'm planning to read it very soon! AND JUST LOOK AT THIS GORGEOUS COVER GASP.
The world is made safe by a woman…but it is a very big world.

It has been generations since the Storyteller Queen drove the demon out of her husband and saved her country from fire and blood. Her family has prospered beyond the borders of their village, and two new kingdoms have sprouted on either side of the mountains where the demons are kept prisoner by bright iron, and by the creatures the Storyteller Queen made to keep them contained.

But the prison is crumbling. Through years of careful manipulation, a demon has regained her power. She has made one kingdom strong and brought the other to its knees, waiting for the perfect moment to strike. When a princess is born, the demon is ready with the final blow: a curse that will cost the princess her very soul, or force her to destroy her own people to save her life.

The threads of magic are tightly spun, binding princess and exiled spinners into a desperate plot to break the curse before the demon can become a queen of men. But the web of power is dangerously tangled–and they may not see the true pattern until it is unspooled.
---
2. Take the Key and Lock Her Up (Embassy Row #3) by Ally Carter
December 27th 2016

I've read the first two in the series anD I MUST HAVE MORE.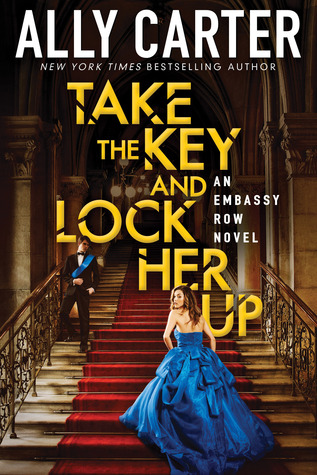 THE PRINCESS IS DEAD.
LONG LIVE THE PRINCESS.

Centuries ago, the royal family of Adria was killed . . . or so everyone thought.
Now Grace Blakely knows the truth:

There was one survivor, and that survivor's blood runs through her veins. This simple fact could cause a revolution — which is why some people will stop at nothing to keep it from coming to light.

There is only one way for Grace to save herself, save her family, and save the boy she loves. She must outmanoeuvre her foes, cut through the web of lies that has surrounded her for years, and go back to the source of all her troubles, despite the risk.

If she wins, she will inherit a throne.

And if she loses, she will inherit the fate of all the dead princesses who came before her.
---
1. Ever the Hunted by Erin Summerill
December 27th 2016

LOOK AT THIS GORGEOUSNESS. LOOK. Not only does this book have a beautiful cover, but it also sounds really really good.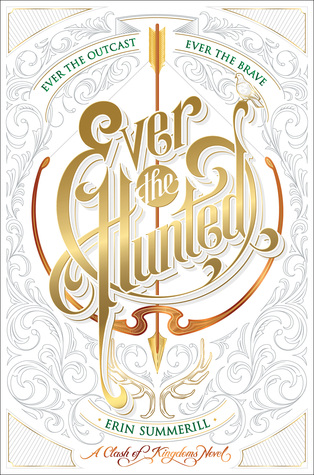 Seventeen year-old Britta Flannery is at ease only in the woods with her dagger and bow. She spends her days tracking criminals alongside her father, the legendary bounty hunter for the King of Malam—that is, until her father is murdered. Now outcast and alone and having no rights to her father's land or inheritance, she seeks refuge where she feels most safe: the Ever Woods. When Britta is caught poaching by the royal guard, instead of facing the noose she is offered a deal: her freedom in exchange for her father's killer.

However, it's not so simple.

The alleged killer is none other than Cohen McKay, her father's former apprentice. The only friend she's ever known. The boy she once loved who broke her heart. She must go on a dangerous quest in a world of warring kingdoms, mad kings, and dark magic to find the real killer. But Britta wields more power than she knows. And soon she will learn what has always made her different will make her a daunting and dangerous force.
---
So what did you guys think! Agree or disagree with anything? Let me know!