Furthermore by Tahereh Mafi
Published November 28, 2016 by Puffin
RRP AUD $19.99
★★★★★
A captivating and colorful adventure that reads like a modern day fairy tale, from the bestselling author of the Shatter Me series.

Inspired by her childhood love of books like A Secret Garden and The Chronicles of Narnia, bestselling author Tahereh Mafi crafts a spellbinding new world where color is currency, adventure is inevitable, and friendship is found in the most unexpected places.

There are only three things that matter to twelve-year-old Alice Alexis Queensmeadow: Mother, who wouldn't miss her; magic and color, which seem to elude her; and Father, who always loved her. The day Father disappears from Ferenwood he takes nothing but a ruler with him. But it's been almost three years since then, and Alice is determined to find him. She loves her father even more than she loves adventure, and she's about to embark on one to find the other.

But bringing Father home is no small matter. In order to find him she'll have to travel through the mythical, dangerous land of Furthermore, where down can be up, paper is alive, and left can be both right and very, very wrong. It will take all of Alice's wits (and every limb she's got) to find Father and return home to Ferenwood in one piece. On her quest to find Father, Alice must first find herself—and hold fast to the magic of love in the face of loss.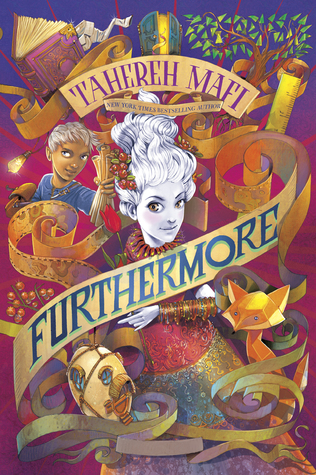 Furthemore is such a magically whimsical book, with the perfect amounts of adventure and friendship. Although it's a middle-grade book, I picked it up after hearing wonderful things about Tahereh Mafi, and who could resist a cover that beautiful?? I didn't even realise it was an Alice in Wonderland retelling, until I was reading a bit more about the book upon finishing it (yes, I know, I should've realised when the main character was named Alice!). I COULD NOT PUT THIS BOOK DOWN.
The world building was there, and although I got a little confused at the start, I understood well enough by the middle of the book. I think the confusing-ness of the land actually added to the whimsical quality it had, instead of being a negative! I was fascinated about how people use magic as currency, I thought that was a nice twist of originality, considering in most stories the magic runs free and wild.
The whole book was just a masterpiece, with boisterous adventurous characters and a chatty narrator, I laughed out loud so many times! While the main world of Fernwood was fun, and colourful, it was Furthermore that really stole the show. Who could resist a world where everything is topsy-turvy and nothing really makes sense? Oddly enough, some of the more serious parts of the book were actually quite terrifying, but still maintained the book's light-hearted spirit. made me laugh out loud so many times!
Alice is a lovely protagonist, a young colourless girl in a world where colour is everything. The way Tahereh wrote her made me laugh so many times! I loved how she acted and her mindset was so refreshing. Oliver started off as quite the opposite of Alice's energetic, buoyant self, but the pair ended up balancing each other out, making the perfect friendship!
Some parts of the story made my heart ache for Alice, especially in the beginning when she kept thinking she was alone and ugly. I loved the bond she had with her father, and her determination to find him moved me so much.
The ending was so unexpected, and while I was pleasantly surprised, I thought it wrapped up too quickly for my liking, and I would've liked to have stayed in the magical world a bit longer; however, that just makes me want to read more, I would LOVE a sequel! After finishing the book, I can confirm that Tahereh Mafi's writing is just as – if not more- alluring than her co-owned 
Instagram
!
---
ABOUT THE AUTHOR
She was born in a small city somewhere in Connecticut and currently resides in Santa Monica, California, where she drinks too much caffeine and finds the weather to be just a little too perfect for her taste.
When unable to find a book, she can be found reading candy wrappers, coupons, and old receipts.