Another month, another anticipated reads list! There aren't too many big-name books being released this month, but I'm still pretty excited for these!
5. The Marked Girl (Marked Girl #1) by Lindsey Klingele
June 7, 2016
This book sounds pretty intriguing, and the cover is absolutely stunning!
Once upon a time, in a land far, far away (Los Angeles)…

When Cedric, crowned prince of Caelum, and his fellow royal friends (including his betrothed, Kat) find themselves stranded in modern-day L.A. via a magical portal and an evil traitor named Malquin, all they want to do is get home to Caelum—soon. Then they meet Liv, a filmmaker foster girl who just wants to get out of the system and on with her life. As she and Cedric bond, they'll discover that she's more connected to his world than they ever could've imagined…and that finding home is no easy task…
---
4. The Geek's Guide to Unrequited Love by Sarvenaz Tash
June 14, 2016
Every now and then I feel like reading a cheesy contemporary novel, and this one sounds perfect! What's a better setting than Comic Con? Additionally, the cover is giving me serious Morgan Matson vibes!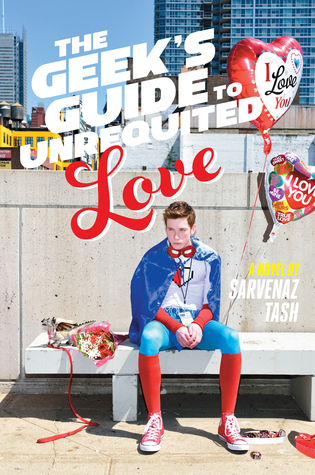 John Hughes meets Comic Con in this hilarious, unabashedly romantic, coming-of-age novel about a teenager who is trying to get his best friend to fall in love with him from the author of Three Day Summer.

Peter Parker and Gwen Stacy…
Archie and Veronica…
Althena and Noth…
…Graham and Roxy?

Graham met his best friend, Roxana, when he moved into her neighborhood eight years ago, and she asked him which Hogwarts house he'd be sorted into. Graham has been in love with her ever since.

But now they're sixteen, still neighbors, still best friends. And Graham and Roxy share more than ever—moving on from their Harry Potter obsession to a serious love of comic books.

When Graham learns that the creator of their favorite comic, The Chronicles of Althena, is making a rare appearance at this year's New York Comic Con, he knows he must score tickets. And the event inspires Graham to come up with the perfect plan to tell Roxy how he really feels about her. He's got three days to woo his best friend at the coolest, kookiest con full of superheroes and supervillains. But no one at a comic book convention is who they appear to be…even Roxy. And Graham is starting to realize fictional love stories are way less complicated than real-life ones.
---
3. Risuko: A Kunoichi Tale (Seasons of the Sword #1) by David Kudler
June 15, 2016
I haven't heard as much about this book, but I loved the over when I first saw it and I'm really intrigued by the Japanese culture and how the book will portray it!
Can one girl win a war?

My name is Kano Murasaki, but most people call me Risuko. Squirrel.
I am from Serenity Province, though I was not born there.
My nation has been at war for a hundred years, Serenity is under attack, my family is in disgrace, but some people think that I can bring victory. That I can be a very special kind of woman.
All I want to do is climb.
My name is Kano Murasaki, but everyone calls me Squirrel.
Risuko.

Though Japan has been devastated by a century of civil war, Risuko just wants to climb trees. Growing up far from the battlefields and court intrigues, the fatherless girl finds herself pulled into a plot that may reunite Japan — or may destroy it. She is torn from her home and what is left of her family, but finds new friends at a school that may not be what it seems.

Magical but historical, Risuko follows her along the first dangerous steps to discovering who she truly is.

Kano Murasaki, called Risuko (Squirrel) is a young, fatherless girl, more comfortable climbing trees than down on the ground. Yet she finds herself enmeshed in a game where the board is the whole nation of Japan, where the pieces are armies, moved by scheming lords, and a single girl couldn't possibly have the power to change the outcome. Or could she?
---
2. This Savage Song by Victoria Schwab (V.E. Schwab)
June 7, 2016
I've been hearing a lot of good things about this book! Really excited for it to come out so I can judge it for myself.
There's no such thing as safe in a city at war, a city overrun with monsters. In this dark urban fantasy from author Victoria Schwab, a young woman and a young man must choose whether to become heroes or villains—and friends or enemies—with the future of their home at stake. The first of two books.

Kate Harker and August Flynn are the heirs to a divided city—a city where the violence has begun to breed actual monsters. All Kate wants is to be as ruthless as her father, who lets the monsters roam free and makes the humans pay for his protection. All August wants is to be human, as good-hearted as his own father, to play a bigger role in protecting the innocent—but he's one of the monsters. One who can steal a soul with a simple strain of music. When the chance arises to keep an eye on Kate, who's just been kicked out of her sixth boarding school and returned home, August jumps at it. But Kate discovers August's secret, and after a failed assassination attempt the pair must flee for their lives.
---
1. And I Darken by Kiersten White
June 28, 2016
Not only is Kiersten a brilliant person to follow on Twitter, her new book And I Darken sounds so good!! Loving the recent stream of ruthless heroines, and just look at this gorgeous cover: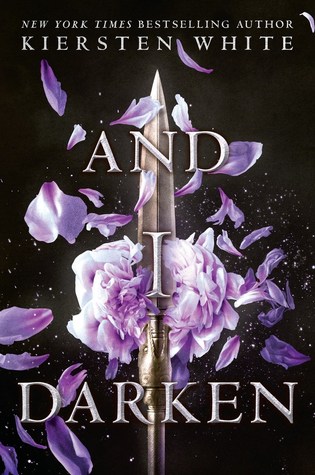 NO ONE EXPECTS A PRINCESS TO BE BRUTAL.

And Lada Dragwlya likes it that way. Ever since she and her gentle younger brother, Radu, were wrenched from their homeland of Wallachia and abandoned by their father to be raised in the Ottoman courts, Lada has known that being ruthless is the key to survival. She and Radu are doomed to act as pawns in a vicious game, an unseen sword hovering over their every move. For the lineage that makes them special also makes them targets.

Lada despises the Ottomans and bides her time, planning her vengeance for the day when she can return to Wallachia and claim her birthright. Radu longs only for a place where he feels safe. And when they meet Mehmed, the defiant and lonely son of the sultan, who's expected to rule a nation, Radu feels that he's made a true friend—and Lada wonders if she's finally found someone worthy of her passion.

But Mehmed is heir to the very empire that Lada has sworn to fight against—and that Radu now considers home. Together, Lada, Radu, and Mehmed form a toxic triangle that strains the bonds of love and loyalty to the breaking point.

From New York Times bestselling author Kiersten White comes the first book in a dark, sweeping new series in which heads will roll, bodies will be impaled . . . and hearts will be broken.
---
Did any of these books make your anticipated reads list? Leave a comment and let me know!